Looking ahead to the 2021/2022 academic year
Third-level education…will return safely on-campus in September. The plan for a safe return to campus includes the return of lectures, with some modifications to overall numbers and specific mitigation measures. We need to begin the next academic year on the right foot, getting all our students and staff back on campus. Mr. Simon Harris Ireland's Minister for Higher Education.

GBS will be following strict public health protocols with mask wearing social distancing and a one-way system and you can find full details of current ELE COVID Safety & Travel Protocols and in our GCI Student Guide.​
19 August 2021

Ireland's higher education institutions are looking forward to welcoming you for the 2021/2022 academic year.

All of Ireland's higher education institutions have come together to provide COVID-19 guidelines for incoming students. HEIs will ensure the safe and managed arrival of all international students into Ireland for the academic year 2021/22, prioritising the public health of students, staff, and the wider community.


19 July 2021
The government has announced that Ireland will allow international travel from 19th July 2021 when Ireland signs up to the EU Covid-19 Cert also known as the "EU green cert", though the existing Government advice to avoid non-essential travel, and the related penalties that come alongside that, will remain in place until 18 July.
Read more here.
30 March 2021
The government announced a phased easing of public health restrictions, starting on the 12th April. Although April 5th was marked as the date for easing restrictions, Government have now changed it to the 12th April.
The measures announced will continue up to the 4th of May, at which point the situation will be revised and further areas of activities will be taken under consideration. If you would like to read more details of the phased reopening on the official government website.
25 February 2021
The government has today decided to extend current level 5 restrictions until 5th April 2021.
Taoiseach Micheál Martin has unveiled the Government's revised plan for managing the coronavirus pandemic and leading the country out of lockdown in the months ahead. The plan, titled Covid-19 Resilience and Recovery 2021: The Path Ahead, sets out how in-school education and childcare services will be reinstated in phases from March 1st.

15 January 2021
The Irish Government has announced the extension of the requirement for a pre-departure negative/not detected PCR tests to passenger arrivals from ALL countries from Saturday 16 January 2021. The test must be taken within 72 hours prior to arrival.

From midnight, all passengers arriving into Ireland must carry a negative ("not detected") result from a PCR test for Covid-19 taken within the previous 72 hours.
The information received form the government advices that prospective students seeking to enter the State should wait until in-person tuition has been resumed and student should postpone their travel plans until it is safe to travel. Failure to do so may result in students being refused permission to land in Ireland and refused registration.
Latest official communication available here.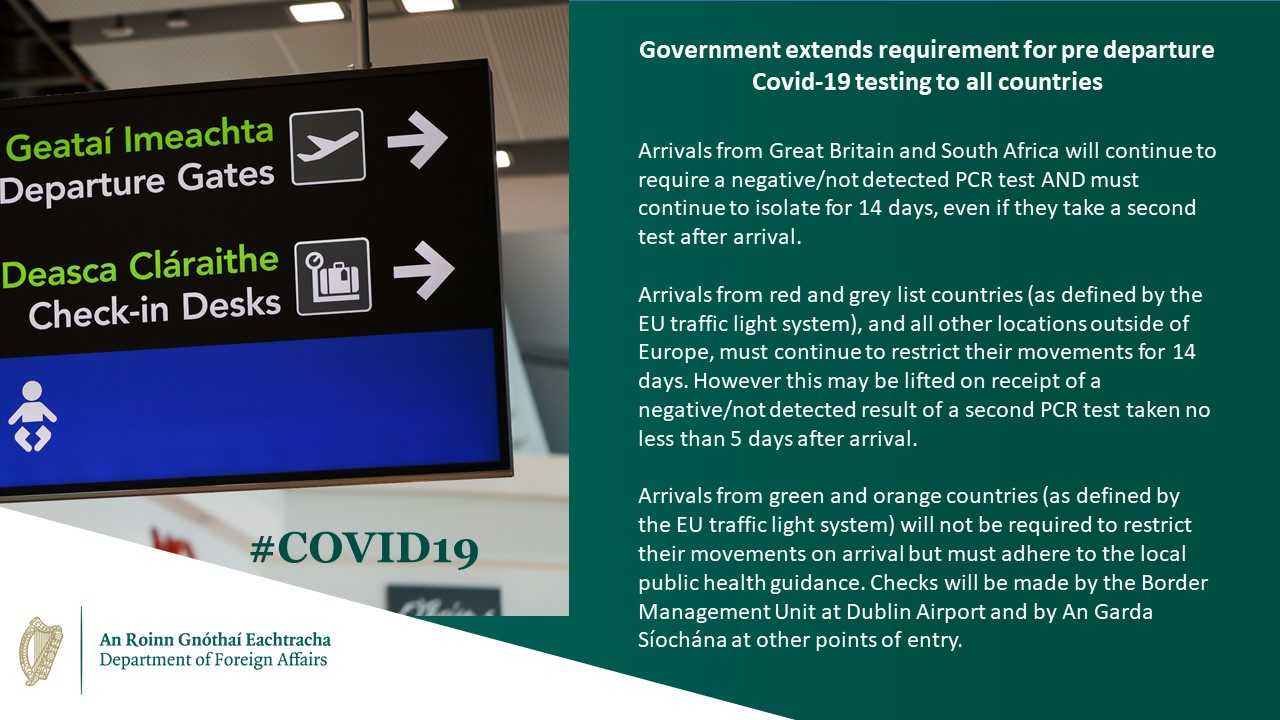 31 December 2021
Yesterday evening, the Irish government have moved the country to Level 5 in order to best protect everyone and reduce the risk of further transmission of the virus. Level 5 restrictions will remain in place until midnight on 31 January 2021.
The levels are all a part of the Resilience and Recovery 2020-2021: Plan for Living with COVID-19 (see more about this framework here). We are hopeful that such measures will protect everyone in Ireland.
GBS is currently reviewing the situation on a continuous basis in line with current Government advice. At the moment the current Public Health advice for colleges is to remain fully online for at least the beginning of semester two which is due to commence on the 1st February 2021.
20 October 2020
Ireland will move to level 5 from 21st October Wednesday at midnight. Restrictions will be in place for six weeks.

In light of the new Government restrictions announced yesterday evening Galway Business School has taken the decision that all classes for the remainder of semester one will be delivered fully online. This decision has been made in consultation with Public Health advice to ensure the safety of both our students and staff.

25 September 2020
New restrictions introduced for third-level and higher education colleges.
Minister for Further and Higher Education, Research, Innovation and Science Simon Harris TD welcomes intensified protective measures for third level students in line with public health advice.
"However, at the request of the Department of Health, it has been agreed to intensify protective measures across the higher level institutions to ensure safe continuation or beginning of the academic term.
"This will mean more learning will take place online and on-site activity will be minimised over the coming weeks".
Read full statement here.
GBS Re-opening 31st August 2020
We are delighted to announce that following the temporary closure due to the Covid19 crisis, our campus will begin a soft and cautious reopening during the month of September with our language students back in the school from 31st August when face to face classes will recommence.
The safety of our students is our main priority so we are currently working on guidelines for reopening, and will adhere to all health and safety protocols, as outlined by the Irish government. We will take a soft and prudent approach to welcoming back our students and staff. We will update you as soon as we have this information available.
Read our blog about the changes we brought to ensure health and safety guidelines are followed.

Thank you all for your patience and support! We can't wait to welcome our students back!
Temporary School Closure - Coronavirus (Covid-19)
30 June 2020
If you currently hold a study visa and have questions about your status, end date or renewing, we recommend that you consult the INIS website and their very informative Frequently Asked Questions Document from INIS regarding New COVID-19 measures for Immigration.
http://inis.gov.ie/en/INIS/Imm...

COVID-19 Pandemic Unemployment Payment Confirmation
If you are currently in receipt of the COVID-19 Pandemic Unemployment Payment we now need you to confirm your continued entitlement to this payment. If you don't confirm your payment may be affected.
https://www.gov.ie/en/service/...

7 May 2020
On the 1st of May 2020, the Irish Government outlined a comprehensive plan for the re-opening of businesses and society on a phased basis between May 18th and August 10th.
These measures are set to come into effect on 18th May. They are a part of the roadmap for reopening society and business and will only come into effect if the medical advice from the National Public Health Emergency Team says that it is right to do so.

According to announcement, all schools must remain closed to students until Stage 5 which sees the gradual re-opening of most businesses in Ireland. These measures are part of the fifth phase of lifting the public health restrictions that were put in place to protect us all from COVID-19. This stage will commence on the 10th August 2020.

You can read full details here.
While schools remain closed, we are continuing to deliver our programmes online for our students.
We remain committed to providing excellent support, tuition and care for our students.
10 April 2020
The Irish government has just announced further measures for the containment of Covid-19.
Galway Business School has followed all health and safety guidelines as issued by the Irish Government since the beginning of the outbreak. In compliance with the directive of the Irish Government of Friday 10th April, the restrictions already in place have extended hence the school remains closed until 5th May 2020.
For further information on the directive click here.
Schools and colleges will now remain closed until further notice and all teaching has been moved online.
Students currently attending a course at Galway Business School can continue to avail of our online classes.
We remain committed to the delivery our online lessons and to provide any support you may need during this time.
24 March 2020
The Government of Ireland extended the school closures until 19th April.
Current GBS students will continue their classes via our online learning platform. Galway Business School has alternative arrangements in place for assessments and examinations. Further updates will be communicated through our virtual learning environment.
12 March 2020
All schools and colleges in Ireland have been directed by the government to close starting from today, March 12th at 6pm.

Taoiseach Leo Varadkar TD announced today the closure of schools, pre-schools and colleges to support efforts to contain the spread of Covid-19. This will take effect from 6pm this evening, Thursday 12 March and it will remain valid until Sunday 29th March.This is in line with the advice of the National Public Health Emergency Team.
All pupils and students, from pre-school to third level are urged to practice social distancing, and to minimise physical contact with each other, to help avoid the spread of Covid-19. This should include minimising social contact, avoiding meeting up and keeping physical space between them.
Covid -19
We are all concerned about the spread of the virus and are adhering to the guidelines set out by government concerning those areas that are within our control. The situation is a concern, but it is important not to panic.
At Galway Business School, our students' safety is extremely important to us. So, if you decide to return to your home country earlier than planned/ during the time of school closure, please inform us by email to info@galwaybusinessschool.ie
Up to date health advice information & updates are available: