Galway's parks and woodlands
Galway's parks and woodlands
Over the last year or so, we have all come to value the concept of freedom of movement in spaces where we can recharge and refresh our natural vitality without putting ourselves, or others at risk. This has led many people to a renewed appreciation of the open spaces, in particular parks and woodlands close to where we live, work and study. Not all of us are blessed with large gardens and these open spaces have proved essential for both our bodies and minds, especially when we are feeling claustrophobic, or need to exercise.
Visiting these places devoted to nature offer us the chance to experience the flora and fauna living all around, developing through the seasons, changing sounds, colours and indeed, smells. These sensory experiences help us to positively offset the air, noise and light pollution that affect our daily lives. To fully understand the reasons behind our positive reactions to green spaces, it is important to understand some of the science that supports our natural instincts.
Feel better
Most people who spend time in nature feel better for doing so and generally look forward to repeating the process and have made it part of their daily or weekly routine. The question is, why? According to East Anglia University's Caoimhe Twohig-Bennet, ''We found that spending time in, or living close to, natural green spaces is associated with diverse and significant health benefits. It reduces the risk of type II diabetes, cardiovascular disease, premature death, and preterm birth, and increases sleep duration''.
Physical and Mental Health
As well as physical health benefits, it has also been proven in clinical trials that there are also a range of mental health benefits to be had when in natural spaces. Spending time around trees for example, provides a sense of well-being by decreasing levels of the stress inducing hormone, cortisol. Twohig-Bennet added that, ''Forest bathing is already really popular as a therapy in Japan, with participants spending time in the forest walking around. Our study shows that perhaps they have the right idea!" Finding ways to unwind and relax is particularly important when yo are studying and focusing on your English language goals – we always recommend that GCI students learning how to pass their Cambridge exams or IELTS tests take time out of their schedule to relax and unwind especially at weekends.
Luckily, Galway has a variety of such spaces to explore and experience within comfortable walking and cycling distance. There are also public transport options and organized tours available to these locations. Galway Business School and Galway Cultural Institute regularly organize health-focused events, sporting activities, guided walking tours and excursions to some of Galway's best nature spots – like the Connemara National Park. Should you wish to visit any of these locations independently, we can give you all the necessary advice and information you require.
Now all that remains is for you to get out there and start your own personal adventure in natural surroundings. Some of the tips below will help you on your way to a healthier approach to life, and how you choose to live it when in Galway.
Plan a time you have available to spend exercising or walking in nature.

Switch off from the outside world and dedicate this time to yourself and your surroundings.

Take deep breaths, listen to the sounds of nature and experience the wildlife all around you.
Now, find parks or woodlands that you can access in Galway.
Below is a list of suggestions that we believe you really should experience. Then, just do it regularly.
Barna Woods
Less than 5km west of the city center in Galway you can find Barna woods, a small but significant area of woodland in the west of Ireland as it is now believed that this area is perhaps the last native habitat of native old growth oak trees in the region. Since 2009, this woodland habitat has been carefully monitored to take into consideration human encroachment due to population growth in Galway City and its suburbs. The woods are split into north and south sections and the latter is particularly important as it is also a marine woodland environment.
It seems that that the woodland has changed little in size since it was first documented in the 1830's and boasts a variety of archaeological areas of interest as well as its natural heritage. The oldest known area of interest is St. Enda's well dating from the late 5th Century and particularly important as this individual is one of the most important figures in early Celtic Christianity on the Island of Ireland. Perhaps, the most poignant human monuments that exist in the woodland are old farm walls that perhaps predate some of the current wood itself.
The woods are an enchanting space, peaceful and yet, invigorating to those who are lucky enough to walk through them. Time seems to stop as you walk through the trees and vegetation allowing a sense of release from the everyday pressures of life. Foxes, red squirrels, badgers, bats and otters are known to exist within the woods alongside a variety of birdlife including many intra-tidal marine species on the southern edge. In addition, there are beautiful natural flowers such as bluebell and wild garlic to be found thriving amongst the oak, beech and holly trees within the woods.
The woods are easily accessible, perhaps a twenty minute cycle from the city center, less than a 1 hour walk or, should you choose public transport you can take the 412 bus via Salthill. What are you waiting for? Barna woods are waiting for you.
Dangan Sportsgrounds
The main entrance to these wonderful riverside sports fields is situated on the N59 road about 2km from the National University, however, they can also be accessed via the University campus alongside the riverside walk which follows the entire length of the campus.
There are two Gaelic fields, two soccer fields, one rugby playing field, and one outdoor hockey field, and all are surrounded by lush deciduous trees of which many are native species. At the beginning of the park as you come from the University side, you will encounter an area of natural river marshland and an ancient strip of river woodland which is very rare in any city environment. The playing fields are surrounded by gravel paths which are comfortable to walk on and easily accessible to most.
The riverside walk is perhaps the most visually pleasing as it offers views up and down the River Corrib and across to Menlo castle (now in ruins), and the adjacent Menlo Woods. The area is rich in native animal varieties, perhaps the most elegant sight is watching mute swans flying just above the river length in formation as the sun sets, on a calm evening you can make out their perfect reflection on the water. Other species such as Mallard ducks, Moor hens, Cormorants, Grey Herons and Swallows can be encountered in and around the river banks hunting for a variety of invertebrates, amphibians and small fish. Trout, Salmon, Roach and Pike are abundant in the river itself and many anglers can be seen using this wonderful natural resource along with small fishing boats en route to Lough Corrib and of course, rowers. Among the trees, black birds, wood Pidgeon, jays, sparrows, and occasionally squirrels can be seen scurrying through the branches and undergrowth.
These playing fields and riverside environments are very popular with dog walkers, joggers, sports people and indeed those just wanting to escape to, and stroll through the peace and tranquility to be found here. Simply put, these walks over 5km in a loop are not to be missed.
Terryland Forest Park
This urban woodland is the largest community project of its kind in the Irish Republic, which commenced in 2000 under pressure from local groups and resulted in 120 acres to be especially dedicated to a forest and riverine park. In the first 5 years of its existence over 100,000 native Irish trees were planted to create a natural reserve for flora, and provide a habitat and corridor for native fauna to the River and Lough Corrib, which are both special areas of conservation.
Inside the park boundaries, there are also reminders of our built heritage that still survive such as a medieval castles, canals, engineering waterworks, railway lines and urban garden allotments.
From the City center, the park's red route can be accessed at Woodquay allowing walkers to access the park at the Dyke Road This walk is a riverside walk and loops around for approximately 5.5km. The surface is gravel, tarmac and earth and quite easy for those of all fitness levels on foot. The trees planted are now starting to mature but still offer valuable cover for both mammals and birdlife as well as being visually pleasing to those out for a gentle stroll.
The purple route of the park can be found just before the entrance to Dunne's Stores on The Headword road and runs along the Terryland River for about 4km. The peregrine falcon has been recorded in this environ as well as river otters, both species are protected by law and considered quite rare in an urban environment. The paths are again gravel, tarmac and grass/earth and not very difficult for those on foot to negotiate.
The blue route beside Sandyvale Lawn south is a short walk of about 1.1 m and the path is tarmac ensuring you can wear everyday footwear when walking. There are some young woodlands, two wildflower meadows, a large picnic area and not to be missed, the last traditional thatched farm cottage and farmlands within walking distance of Galway city. So, why not take a stroll back in time?
Last but least, there is the blue route which is located beside the entrance to Curry's electrical store on the Headford road. This tarmac path is an approx. 1.4 km loop which contains thousands of young native Irish trees planted by a host of volunteers in the early 2000's. This act was repeated in 2014-2016 and now this section of the park contains a variety of native flora such as wild garlic, bluebells, primrose, bee orchid and knapweed. This riverine section of the park also contains a variety of bird species found in Dangan, as well as the kingfisher and coot.
It is wonderful to have such a natural resource in the heart of an urban area, and one which will only improve with care, attention and proper use.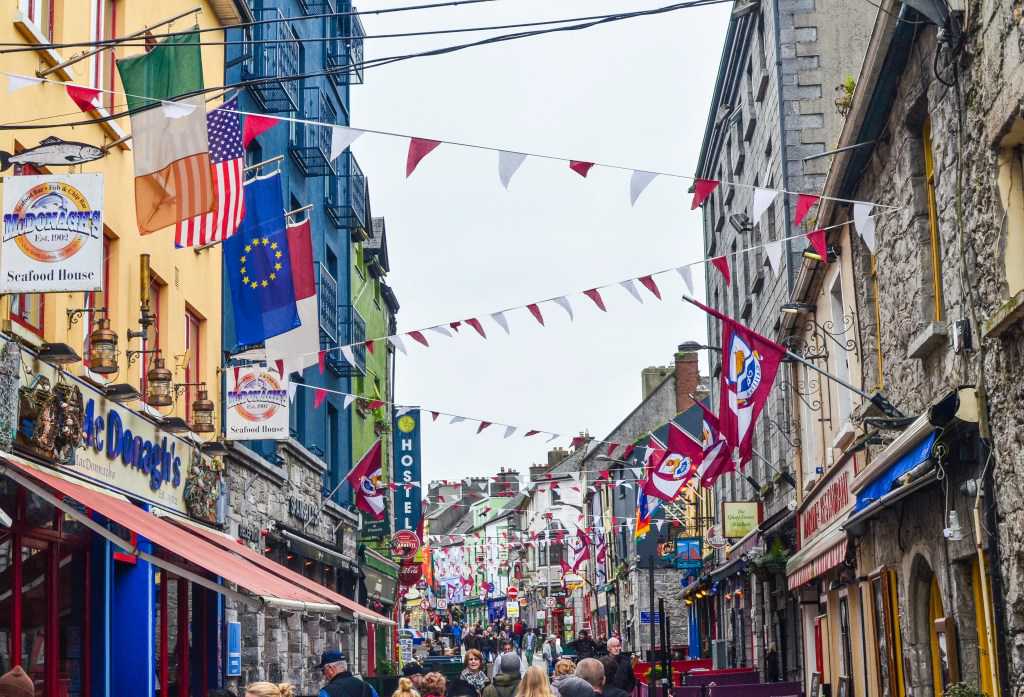 Merlin Woods
This beautiful woodland is situated in the east of Galway city's suburbs beside Merlin Park hospital on the Dublin Road. It is easy to access the woods using Bus Eireann's 402 and 409 busses from Eyre Square in the city center. The woods are the largest in the Galway City urban area and considered an area of very special importance, worthy of conservation due to the myriad of native species of flora and fauna that inhabit this eco-system
The woods were originally part of the Wraithman estate and many of the trees that still survive date from this era. The Irish state purchased the estate in 1945 to build what is now known as Merlin Park Hospital to tackle the problem of Tuberculosis in the west of Ireland.
Once in state ownership, they planted 140 acres of Norway spruce in the North Wood but much of this now survives as it has not been managed as a commercial plantation. On the fringes of this coniferous wood there are some deciduous woodland species such as beech and ash thought to be almost 200 years old. An exposed limestone pavement similar to that of the Burren in County Clare is also found here and supports a variety of plant species quite unique in an urban environment, some of which are extremely rare and protected species.
The South and Eastern sections of the woods are perhaps the most beautiful, containing native ash, beech, sycamore and hazel trees. There are also quite a few patches of regenerating woodland with some very old oak and Sitka spruce growing alongside. These sections of deciduous woodlands contain a variety of native mammal species like red squirrels, foxes, badgers and bats. Birdlife and invertebrates associated with native Irish woodland are also found in abundance alongside woodland floral species and plants attracting all sorts of wonderful butterfly species. Some examples can be viewed in the following pdfs.
Merlin woods have various trails well worth a visit and those that do, always vow to return. So, if you thought Galway was just an urban environment, think again. Get out there and discover your wild side.