Ten Places for Good Coffee in Galway
Galway
Ten Places for Good Coffee in Galway
Posted 21 May
Galway a great city for international students whether they are studying an English language course or are enrolled in a college or university degree programme. Galway has a large student population with various schools such as Galway Cultural Institute, Galway Business School and a number of other third level colleges. - it's a young vibrant city with lots to see and do.
Galway also boasts a great café culture, there are some great cosy little coffee shops all over Galway City which are the perfect places to find a snug corner to read in or to meet friends to catch up at the weekend.
Here are our top ten Galway café recommendations, in no particular order of preference.
1. The Secret Garden, William St
This beautiful café is located in Galway's West-end, which is an area located west of the Corrib and is home to some of Galway's most hip and trendy bars and restaurants. This unique emporium sells over a 100 types of tea from around the world, you won't know what to choose from with plenty of varieties. If you are a coffee drinker at heart, the cafe offers fantastic coffee too, such as espresso, cappuccino, latte and also hot chocolate. There are also delicious homemade cakes and treats with gluten free, raw and vegan options available.
One of the main features of this café is its creative and relaxing atmosphere with an open layout that includes a cosy lounge area where you can sit with cushions and really chill out. There's also an outdoor space if you want to escape the hustle and bustle of the city, where you can relax in the afternoon sunshine (hopefully ;p) and listen to the songbirds.
If you are looking for something off the beaten path or perhaps taking a break from your exam preparation studies, the Secret Garden is Galway's best kept secret and a place you must visit. A visit to Bell Book and Candle around the corner is well worth a trip, where you can find all sorts of second-hand books, vinyl records and prints.
2. Ciarlantini, High St
This is my new favourite place to go on a Saturday afternoon after my stroll around Galway's weekly market, which is just around the corner at St. Nicolas' Church.
The moment you enter this café your mouth will being to water at the sight of all the amazing Italian pastries and cakes that are on offer. You'll be spoilt for choice with such varieties as cannoli, cornetti, sfogliatelle and, of course, delicious tiramisu. So if you are an international language student in Galway or maybe an Italian who is missing the delights of home - maybe this one is for you!
It's a coffee lover's dream come true and a great addition to High St. Their coffee is supreme and all tastes are catered for, from ristrettos to flat whites. There is also a pistachio latte available for those who wish to try something different.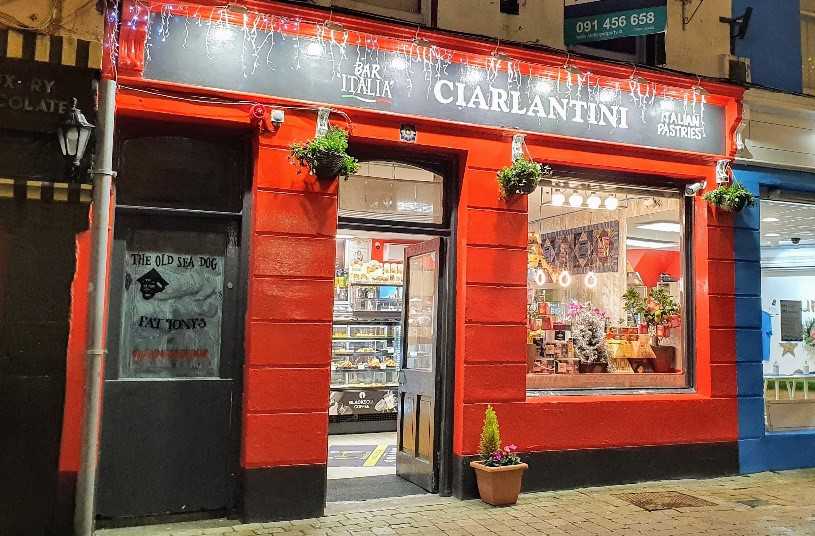 3. Ground & Co., Salthill
This bustling café is situated on the Salthill Prom at the same location as Galway Atlantaquaria so it's an ideal family-friend hob for all those visiting Salthill and locals alike.
The café serves a variety of coffees, teas and cold beverages and an assortment of yummy pastries and cakes as well as brunch dishes, sandwiches and soups. There is plenty of room to sit al fresco and enjoy the stunning views of Galway Bay and The Burren.
Well worth a visit as you walk the Salthill Prom, whether it's for some extra pep in your step or a well-earned treat after all that walking!
4. Jungle Café, Forster St
Another little treasure hidden away Forster Street, close to the coach station east of Eyre Square. Jungle Cafe is a little tropical nook nestled into Galway's city centre. From the minute you step inside you're greeted with a friendly hello and a chilled out vibe.
Sit back and relax in the tranquil surrounds of the outdoor café accompanied with cosy blankets and potted plants. Serving up some of the most nutritious food, Jungle cafe offers everything from breakfast to lunch and everything in between.
The barista's of Jungle will make you the perfect cup of coffee, however you like it. Whether you're looking for that perfect place to sit with a book or hanging out with friends, Jungle Cafe is the ultimate oasis away from all the city's hustle and bustle.
5. Mc Cambridge's, Shop St
It's hard to miss Mc Cambridge's on Shop St, which has been a mainstay in Galway since 1925. The ground floor is mainly dedicated to groceries but make sure you don't miss out on their fantastic sandwich counter, which serves up scrumptious sourdough sandwiches made with the best local ingredients or their barista bar which always has a long queue for a good reason!
You can opt for sitting upstairs in the dining room if you wish to dine indoors and there is an option of hot meals and salad if you do this. Personally, I prefer to sit outside and people watch as I munch on my tasty nosh or perhaps get it all to go and head down to the river for an impromptu picnic.
6. Gourmet Tart, Raven's Terrance
This is just one of many Gourmet Tarts that are dotted around Galway but for me this location is the winner by far, from the location which is situated right by the canal and Wolfetone Bridge by The Claddagh to the friendly staff that always seem happy to serve you.
Great place to rest after a day of shopping in the centre or after a long walk around South Park to check out the Galway Hookers in the Claddagh Basin or enjoy the sun at the Spanish Arch. The café serves up fantastic coffees but for me the best thing is their fantastic selection of ready-made salads, wraps and meals. Everything is really well priced and excellent quality. For those of you with a sweet tooth you won't be disappointed with the vast selection of French-style mousse cakes, croissants and of course delicious tarts.
Unfortunately, there is very little seating provided but that's okay as most people are perfectly happy to sit on the wall by the canal and watch the world go by.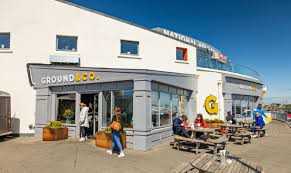 7. Coffee Werks + Press
Located in the heart of the Latin Quarter or otherwise known as Quay St., Coffee Werks is definitely the most hipster of our selection. As well as being a café, it is also an art gallery and a yoga study. How they fit it all in is beyond me.
Coffee Werks prides itself on their use of all fair-trade products and also were the first café in Galway to use all compostable products. As well as coffee and treats you pick up all sorts of home-brewing equipment so you can make your own perfect cup at home.
Artwerk Press is a small art publishing house that operates out of Coffeewerk + Press. They produce and curate from local and international artists who inspire them. In their gallery they stock postcards, greeting cards and prints from 30 artists. Great pressies to bring home to your family and friends.
8. The Lighthouse - Abbeygate St.
Looking a high-quality veggie fix in Galway? The Lighthouse Cafe is where it's at. Since 2017, they've been serving up mouth-watering vegetarian breakfasts and homemade lunches that would bring a tear to your eye.
Their quirky exterior on Abbeygate Street is complimented by their tastefully decorated interiors and the atmosphere is always relaxed and peaceful. If the weather allows it, grab a table outside to tuck into their ever-popular Sunday vegan brunch from 12 to 4pm. Their pancakes are to die for!
As well as all that good stuff, they've even got some great tea and coffee, home baked scones and unbelievably sweet treats. Definitely a place to check out.
9. Kali Coffee Bar, Main St, Salthill
So Kali is definitely the new kid on the block when it comes to cafes in Salthill, as it only opened in early 2021.
As well as being eco-friendly when it comes to their use of compostable cups and packaging, they are also extremely dog-friendly. They have no issue with "man/woman's best friend" popping in with you to pick up a coffee and a delicious pastry and plus they provide doggie treats so no one gets left out. It's a great addition to the strip so make sure to pop in on your way to or from The Prom.
10. Temple Café
Located in The Cornstore, Temple Café is a perfect stopping of point on your way to or from Charlie Byrne's Bookstore, which is a must see on any trip to Galway. If you're an avid reader, check out our blog, 8 books everyone should read in a lifetime, you might find them in the bookshop.

The Temple Café pride themselves on using fresh, organic and local produce whenever possible. They use organic fair trade tea and coffee. At their café they want people to see the value of eating healthy and to treat their bodies like a temple.
The Temple Café also contributes to the community by supporting local charities such as GDYS, COPE, The Simon Community and SERVE. Part of their profits are used to give back to the community as well as supporting local suppliers.